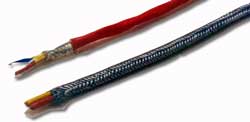 PTFE is a versalite material with some unique properties not found in many materials. It has found application in many products of daily use for domestic as well as industrial use. Some of the main properties, benefits, advantages, uses and applications of PTFE are given below:-
PTFE is considered one of the best insulation materials for its various properties. It is one of the most preferred materials for insulated wires manufacturred for special purpose use.
One of the major advantage of PTFE is that it is hydrophobic which means water of any material containing water would not have any affect on PTFE and would not be able to wet it. This is also one of the reason PTFE is preferred for insulated wires and cables. Because of this property PTFE is used as insulation material on many products.
Apart from being hydrophobic, PTFE also has the property of one being one of the lowest coefficient of friction with solid of any type. Because of this, PTFE is used as non-stick coating on many products and materials including pans, cookwares and many other products and materials and even on surgical catheters.
PTFE has another useful property that of being non-reactive with most of the chemcials etc. Because of this property PTFE is used as a coating in containers, pipes, tanks etc where chemicals and other reactive materils are passed through or stored.
PTFE is also a good lubricant agents and is used as lubricant in machinery which reduces friction and improves the efficiency of machinery and reduces the energy consumtion.